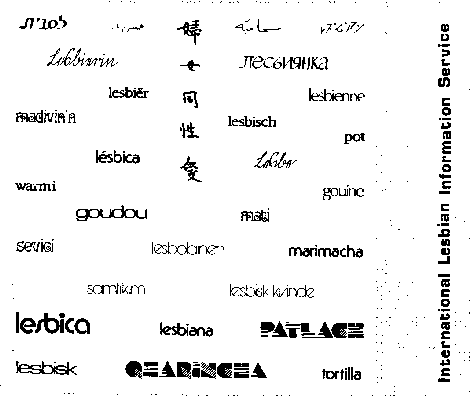 I L I S
INTERNATIONAL LESBIAN INFORMATION SERVICE ILIS is an international network of lesbians dedicated to foster lesbian organizing.
---
Lesbian rights are human rights! - the info package from ILIS.

The five basic ILIS demands are:
We have the unconditional right to control our own bodies.
We have a right to education that is not sexist or heterosexist and which includes positive information about lesbian lifestyle.
We need the right to self-organisation.
All governments must repeal legislation which criminalizes us or discriminates against us.
Therefore, all governments must pass human rights legislation to protect individuals against discrimination based on color, class, creed, sex and sexual preference.
---
Membership (which includes ILIS Newsletter, in English or in Spanish): US $20 for individuals, US $30 for organizations, payable by giro to ILIS account no. P4270860 Postbank, Amsterdam or by international money order.

ILIS, c/o COC, Nieuwezijds Voorburgwal 68-70
1012 SE Amsterdam, The Netherlands
tel: +31(0)20-6231192, fax: +31(0)20-6267795